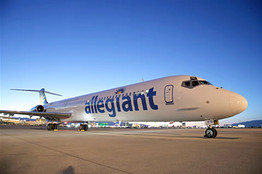 With all of the doom and gloom in the airline business, it was refreshing to read in last week's Wall St. Journal about an airline that is making money, thank you very much. Not only is Allegiant, a unit of Las Vegas-based Allegiant Travel Co. making money but their planes are flying 90 percent full. The story detailed just how this can be in an era when everyone, big or small, is squawking about profits and imposing fees. Heck, Ryanair even floated a trial balloon about charging to use the toilets on planes this week!
But Allegiant has announced 25 new routes since August, and they've focused on smaller, unserved cities that have demand, but have been abandoned by larger carriers. Elmira, NY; Peoria, IL; Fargo, ND; Bellingham WA; you get the idea…plenty of need for plane travel to places like Las Vegas, St. Petersburg FL and Phoenix, but nobody else is offering it.
Part of Allegiant's low costs are due to its unimpressive fleet. They own, not lease, 41 slightly used MD-80 airplanes, these cost a whopping $4 million each, compared with dozens of millions for a new Airbus or a Boeing 737.  And these cheap planes only depart when nearly all 150 seats are full. Many routes are served just two or four times a week, not every day as you'd see with a legacy carrier.
There are those who are skeptical about the upstart, including Mark Roberts of Off Wall Street consulting. He told the Journal that "  if leisure travel drops, and fuel goes up, these guys are toast."
But for now, if you live in Kalispel Montana, or Elmira and want to jet to Vegas, well Allegiant just might be the way to go.