Southwest announces new service from Boston/Logan Airport in Spring 2009.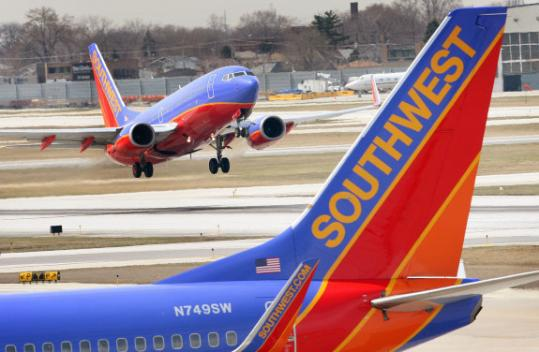 In Boston, an issue that's been keeping people at loggerheads is the expansion of runways at Logan Airport. For many years residents of East Boston, where planes fly right on top of them on their way out over the Atlantic have fought in courts to keep them from building a new runway. Now they are happy that their persistent demands for another study of the environmental effects has been heard .
Massport, the agency that runs Logan, is planning on building a $455 million parking garage at the Boston Airport, and a provision tucked into a new transportation reform bill might be of great assistance. It calls for a state Dept of Health study of the health effects of air pollution caused by air, road and rail transportation. People who live here, many of whom are poor, have been trying to get such a study done, to bolster their claims against the project. It may not derail it, but these studies have a way of eating up time.
The other big news out of the Hub is that Southwest will soon be servicing Boston/Logan. That's big, big news to some business travelers who love using Southwest because the prices are so often right. This will add 35-40 jobs at the airport. The airline expects to offer eight to 12 daily departures to just a couple of destinations, but they won't say which until the spring.
The best thing that will result from this is that other airlines will have to lower their fares to match the discount King.  Southwest also flies 31 daily departures out of Providence RI and 27 flights out of Manchester, NH. On their website they call these cities 'the Boston Area.'   Southwest CEO Gary Kelly told the Boston Globe that part of the reason for this expansion to Logan is to use some of their 529 Boeing 757s from unpopular routes to markets where they think they can make money.