Cuba has been growing in popularity as a travel destination since former president Barack Obama loosened restrictions on travel. From it's classic cars to rolled Cuban cigars, the country has an undeniable charm. Just this week, however, the travel restrictions have changed yet again.

A Quick Look at U.S.-Cuba Relations Through The Years
The United States imposed the first national trade embargo on Cuba in 1960, restricting all but the export of medicine and certain non-subsidized food to Cuba. In the next few years, the embargo expanded to cover Cuban imports coming into the United States.
In 2009, the travel ban slowly began to ease as President Obama allowed Cuban-Americans to travel to Cuba. The privileges extended to certain missionaries and students in 2011. Regular tourists were not permitted to travel to Cuba under a general license until Obama put in the 12 officially-authorized categories, easing travel restrictions in 2014.
Then, in 2016, Americans were allowed to bring in Cuban rum and Cuban cigars for their personal consumption.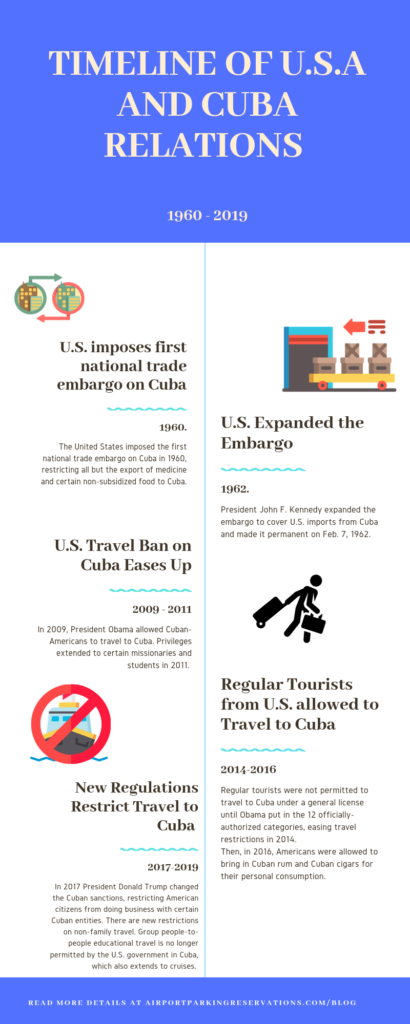 The freedom to travel to Cuba began to tighten in 2017 when President Donald Trump changed the Cuba sanctions, restricting American citizens from doing business from certain entities that had a connection to the Cuban intelligence, military, personnel or security services. The list of businesses is on the State Department website. Extra requirements were also added to a few of the visa categories, including the "Support for the Cuban people" category.
New Regulations Unveiled on Tuesday
While an announcement by the Trump administration had been made on April 17 about coming travel restrictions, the specifics of the details weren't revealed until this past Tuesday, June 4. The most recent restrictions were focused on non-family travel. Group people-to-people educational travel is no longer permitted by the U.S. government in Cuba.
On top of that, the restrictions on aircraft and vessels are applicable to recreation and passenger vessels and private and corporate aircraft. What does that mean? Cruise ships will no longer be able to go to Cuba. And if you've been taking your private or company plane to Cuba on the weekends, you had better start thinking of a new destination.
What is group people-to-people travel?
The people-to-people educational travel category refers to travel done with an organization that is not tied to any degree program. It has been one of the main categories for U.S. travelers to Cuba.
What if I already booked my flight and hotel?
If you already have travel accommodations booked, you're in luck. The government press release states that there is a grandfathering provision that authorizes those who have "already completed at least one travel-related transaction (such as purchasing a flight or reserving accommodation) prior to June 5, 2019."
Enjoy your trip and be sure to keep an eye out for updated information on what you can and cannot bring into Cuba and back to the U.S.
Those who have booked cruises out to Cuba do not yet have a clear answer for their travel plans. Cruise lines are still awaiting further information on their shore excursions to Cuba.
So can people go to Cuba or not?
This is a tricky question, and it all goes back to what you're going to visit the island for. If your main reason to travel to Cuba is for tourism, it will be difficult to get into the country. The Department of Treasury states in its Cuba FAQ that trips to Cuba for tourist activities is not permitted. If you fall under one of the other 11 categories, there is currently no additional restrictions added. The 12 categories listed by the Department of Treasury are below:
Family visits
Official business of the U.S. government, foreign governments, and certain intergovernmental organizations
Journalistic activity
Professional research and professional meetings
Educational activities
Religious activities
Public performances, clinics, workshops, athletic or other competitions, and exhibitions
Support for the Cuban people
Humanitarian projects
Activities of private foundations or research or educational institutes
Exportation, importation or transmission of information or information materials
Certain authorized export transactions
For a more detailed breakdown of what each of these categories entails, you can read how the Department of Treasury describes them here.