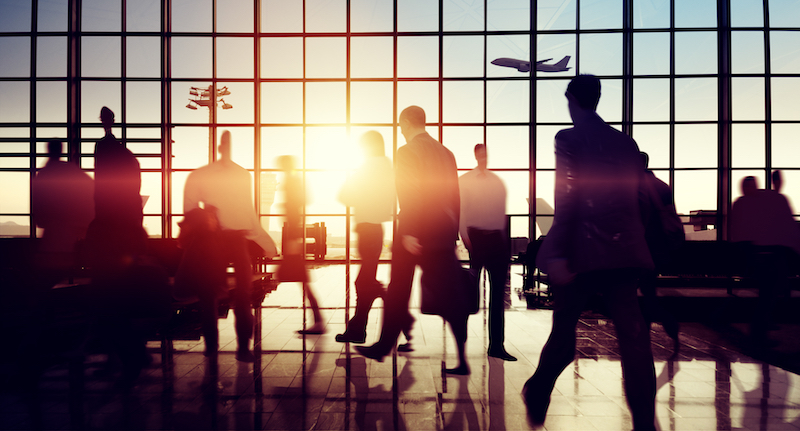 Traveling for business can be either aggravating or relaxing, depending on the accessories you pack. Take a look at these 13 essential items that will make your next work trip a piece of cake.
1. Air Bolt
If you're tired of fumbling with traditional locks on your suitcase, you have to check out Air Bolt. This smart lock can be unlocked via an app from your phone and has some nifty features like an alarm that will sound to deter thieves if your bag moves too far from your phone.
2. Pay as you go wifi
Wifi hotspots are an absolute must if you travel for business, and the Karma is one of the best out there. It's small, reliable and incentivizes users to share their data with others.
3. Gogo Air
In-flight internet isn't known to be fabulous, but Gogo In-flight Internet is changing the game. You'll find that the fast speeds and reliability are worth the higher price point when you're able to get all of your work done in-flight!
4. Bucky Ultralight Sleep Mask
This isn't an ordinary sleep mask. The Bucky features moldable eyecups to reduce strain and a flexible bridge that creates the perfect pitch black environment for your sleeping comfort.
5. CleverFit
When you are headed straight from your flight to a business meeting, you can't afford to look rumpled from a tiresome trip. This simple and clever product will keep your collars looking perky, despite the fact that you just slept through your entire flight.
6. Trtl Neckwrap
This little contraption may look quite silly, but everyone who's ever tried it on a long flight quickly becomes a fan. It's a neck wrap that includes supports so that you can at least rest your head comfortably while sleeping in decidedly uncomfortable positions.
7. Joy Mangano My Little Steamer Go Mini
This pocket-sized steamer packs a lot of punch for its small stature. If you are a disorganized packer, the Go Mini will make all of your jumbled, wrinkled clothes look like they're fresh out of the dryer!
8. Rimowa Original Cabin
This handsome aluminum suitcase is not only lightweight and durable but incredibly secure and guaranteed for 5 years, which are features all business travelers can appreciate.
9. Flux Charger Plus
This slim device carries a whopping 10,000 mAh of charging power, so you'll have plenty of juice for even the longest of flights.
10. SK-II Facial Treatment Mask
Having this mask to freshen up after a long flight can make all of the difference in your mood!
11. Aquaphor
Don't leave home without this super balm. Smooth fly-away hairs or soothe parched lips with this all-in-one cream.
12. Bos QuietComfort 35 wireless headphones II
If you're looking for the best noise-canceling headphones on the market, look no further. These comfortable headphones will be worth every penny when you slip them over your ears and hear nothing else but your media.
13. Workouts and Meditation Apps on the go
If you do a lot of traveling, you're going to need to release some stress. Apps like Nike Training Club, Calm, and Headspace are great for lowering your blood pressure during stressful trips!
If you read our blog we would love to hear from you!
Take our quick survey here!