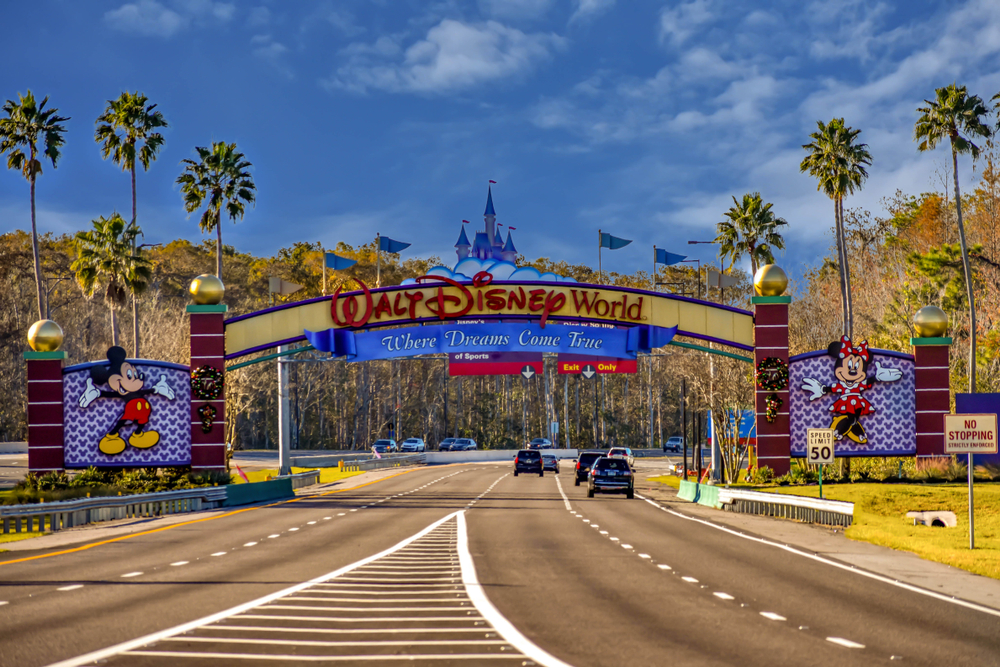 Some of the links in this article are affiliate links. We take our recommendations very seriously, and we may receive a small commission from certain sales (without any extra cost to you). This helps us continue to create free, high-quality content to serve you better.

---
Nowhere in the world are amusement parks more prevalent than in the United States. There's a different theme park for every type of person. With such a vast variety of parks and thrills to choose from, it may be difficult to find the perfect fit for your family. Depending on the ages of your family members and cost limitations, some parks may be better suited for your needs than others. To help you find your dream park, we've compiled this list of the top amusement parks in America for all ages!
---
Best parks for younger kids
Disneyland Park in Anaheim, California
Spend the day among some of your child's favorite characters at Disneyland. There are plenty of princess sightings to create those magic kingdom moments for the youngest crowd and lots of fun rides for your slightly older kiddos.
Legoland in Carlsbad, California
Be forewarned before heading to Legoland that your little engineer will never want to leave! Kids can spend all day building masterpieces and enjoying the creations of other Lego artists at this family friendly park.
Sesame Place in Langhorne, Pennsylvania
If your little one loves Elmo, imagine her excitement meeting the furry red monster in person! In between Sesame Street shows (and parades and character meet-and-greets), cool down with one of the many kid-friendly water rides.
Disney's Animal Kingdom in Orlando, Florida
Little kids and big kids alike love Animal Kingdom. There are 4 themed areas that will make you feel as though you've been transported across the world, complete with every animal you might expect to see from that area.
---
Best parks for older kids
Cedar Point in Sandusky, Ohio
If you have thrill-seeking teens, bring them to the roller coaster capital of the world! Cedar Point boasts a whopping seventeen coasters, including a floorless ride and one that launches you to 120 MPH in 4 seconds!
Six Flags Magic Mountain in Los Angeles, California
Out of the 11 Six Flags locations, Magic Mountain takes the cake for the best choice for teens. Here they'll enjoy a dozen superhero-themed coasters along with quite a few virtual reality thrill rides.
Busch Gardens in Williamsburg, Virginia
Jaded teens will love the varied activities at Busch Gardens. In between adrenaline-inducing rides, they can stroll through the park to see exotic animals and live shows to keep their interest piqued all day.
King's Island in Mason, Ohio
Spend the day at the largest amusement and water park in the Midwest. The park includes 14 heart-pumping thrill rides, with a face-to-face inverted coaster that's sure to excite even the toughest of critics.
---
Best parks for all ages
Walt Disney World in Orlando, Florida
As North America's, and arguably the world's, most popular park, you'll find something for all ages to enjoy. Spend the day laughing on rides, rubbing elbows with your favorite childhood characters and relishing feeling like a kid again!
Universal Studios in Orlando, Florida
Cinephile families can't get enough of Universal Studios. Step into some of your favorite movies (like Harry Potter and Jurassic Park) and join the action for a unique, fun-filled family day!
SeaWorld in San Diego, California
Older kids will love SeaWorld's high-speed rides while the younger members of the family will be overjoyed to wander the animal exhibits or watch one of the park's world-famous marine shows.