Navigating LAX Airport with kids can be a challenging task but rewarding. From the initial planning stages to the return, making sure a smooth and stress-free experience for your family needs careful consideration and preparation. We'll take you through the essential tips to guide you through the airport with your children, ensuring your journey is hassle-free and enjoyable.
From pre-departure planning and arrival at the airport to managing check-in, security, and layovers, we'll cover every aspect of your travel experience. You'll learn how to pick suitable dining options at the various terminals at LAX, entertainment during layovers, and coping with potential travel disruptions like flight delays or lost luggage.
Pre-Departure Planning for a Smooth Journey
Before you jet off on your trip with the little ones, a few essential preparations can enhance your travel and make sure your journey goes smoothly.
Choosing the Right Flight Time
It's crucial to consider the timing of your flight when traveling with kids. Select flight times that align with your children's daily routines. Early morning or late-night flights might work well if your children typically sleep during those hours, reducing disruptions.
Additionally, choosing non-peak travel times can result in a quieter and less crowded airport experience, making it easier to navigate with children. Make a note of the busiest travel days of the year. If you have connecting flights, plan your layovers thoughtfully, allowing for extra time to handle any unexpected delays or changes in your schedule.
Packing Essentials for Kids
Properly packing for your journey is vital when you have little ones in tow. Remember to pack an assortment of snacks and drinks to keep hungry tummies satisfied during the trip. Also, bring along your children's favorite toys, books, and other sources of entertainment to keep them engaged and content.
This can be a great help in minimizing boredom and restlessness during long waits. Don't forget to include essentials like diapers, wet wipes, and a change of clothes in your luggage, to make sure you're well-prepared for any unexpected situations that may arise.
Booking Child-Friendly Accommodation
When planning your travel arrangements, seek out accommodation that is specifically tailored to families with children. These places often provide a variety of family-friendly amenities, such as play areas, swimming pools, and children's menus. If you have younger toddlers or infants, remember to request cribs or rollaway beds when booking your lodging.
This ensures that your children have a comfortable and safe place to sleep. Also, check if there are nearby parks or playgrounds close to your accommodation, providing an opportunity for your children to burn off some energy during your stay.
Arriving at LAX Airport with Kids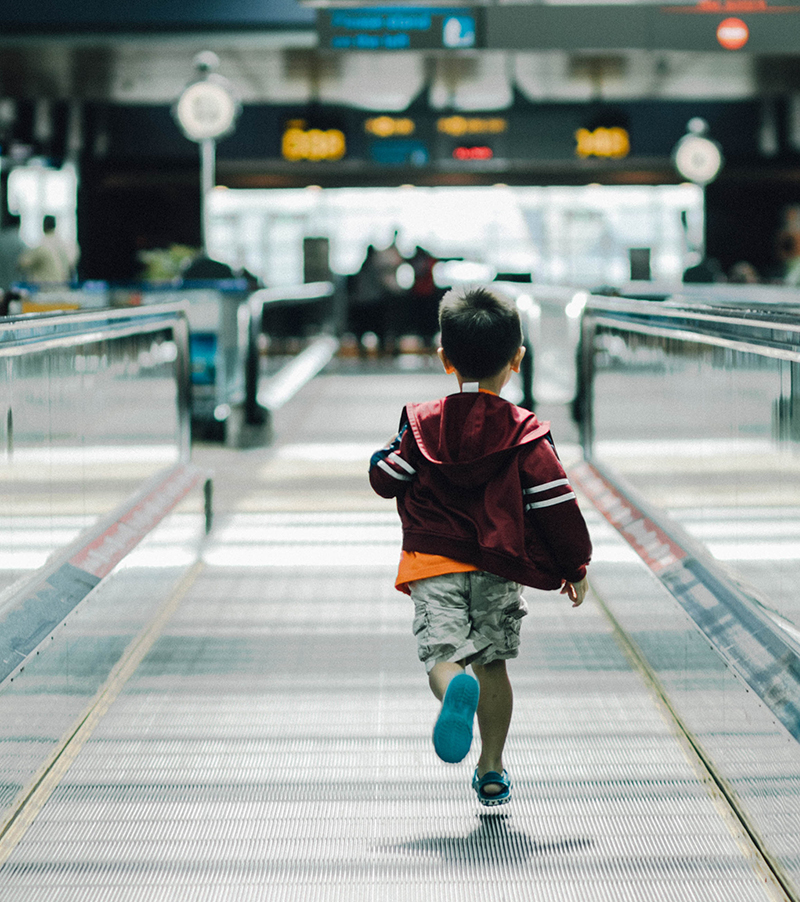 When you arrive at LAX Airport with your children, it's important to make your journey as smooth as possible and there are a few key considerations to keep in mind.
Airport Parking Options
Before heading to the airport, explore the best LAX parking options. Compare and save money with AirportParkingReservations.com for short-term and long-term airport parking deals at LAX Airport. If you're dropping off or picking up your family and children, consider the cell phone waiting lot, where you can wait for your arriving passengers without incurring high parking fees.
Utilizing Ride-Sharing Services
Ride-sharing services like Uber and Lyft are convenient choices for traveling to LAX Airport with kids. These services can drop you off right at your terminal, saving you the hassle of parking and a lengthy walk with your children and luggage.
Public Transportation to LAX
If you prefer public transportation, LAX is accessible by bus and light rail. The Metro Green Line connects to LAX, offering an affordable and environmentally friendly option. Be sure to check schedules and routes in advance to plan your journey effectively.
Check-In and Security Procedures
As you prepare to safely navigate LAX with your kids, understanding the check-in and security procedures can help speed up the process.
Online Check-In and Seat Selection
To save time at the airport, consider online check-in. Most airlines offer this option, allowing you to check in and select seats in advance. When traveling with children, this can help ensure that your family sits together, avoiding last-minute seat rearrangements.
TSA Pre-Check and Security Tips
For a smoother security experience, explore TSA Pre-Check. It offers expedited security screening for eligible passengers, including families. When passing through security, be prepared to remove shoes, jackets, and laptops for screening. Keep in mind that baby strollers and car seats will also go through the X-ray machine, so be ready to collapse them if necessary.
Traveling with Baby Strollers and Car Seats
When traveling with infants or toddlers, it's essential to know how to handle strollers and car seats. You can bring them through security and gate-check them at the plane's entrance. Airlines typically allow you to use your car seat on the plane if it's FAA-approved. Ensure your car seat is labeled as such and check your airline's specific guidelines for using them.
Navigating Terminals at LAX with Children
With multiple terminals, getting around LAX Airport with kids can be more manageable with the right approach.
Family-Friendly Amenities and Services
LAX offers various family-friendly amenities, such as play areas for kids to burn off energy and baby-changing stations for convenience. These amenities are scattered throughout different terminals, so it's a good idea to check your terminal's map in advance or ask airport staff for directions.
Airport Lounges for Families
If you have access to airport lounges, look for ones specifically designed for families. These lounges provide a quieter and more comfortable space for parents and kids to relax before a flight. Some even offer complimentary snacks and drinks.
Play Areas and Entertainment Options
Many terminals at LAX have play areas and entertainment options for children. These can include interactive displays, art installations, and even occasional live performances.
The LAX Beach play area at the Tom Bradley International Terminal (TBIT) is a key attraction for the little ones. The 971-square-foot play area features a slide, beach toys and foam pieces; enough to keep them occupied. It's also conveniently located close to the dining terrace.
Feel free to explore these attractions if you have a layover or need to keep your kids entertained.
Dining and Meal Options at LAX for Kids
When passing through LAX airport, ensuring your children have access to suitable meals is essential.
Child-Friendly Restaurants and Menus
Look for child-friendly restaurants at LAX or eateries with menus catering to kids. These menus typically offer familiar and appealing options like chicken tenders, pizza, sandwiches and even tacos. Expect to find our national favorite chains such as Burger King, Starbucks, and Chick-Fil-A.
Consider checking the airport's website or asking airport staff for recommendations on where to find these dining options.
Packing Snacks and Food for the Flight
To keep your children satisfied during the flight, pack a selection of their favorite snacks. Portable options like granola bars, fruit, and crackers can help stave off hunger and prevent in-flight meltdowns. Remember that liquids and gels are subject to TSA rules, so be mindful of what you bring through security.
Allergies and Special Dietary Needs
If your child has allergies or specific dietary requirements, it's essential to plan ahead. Communicate your child's needs to the airline when booking your ticket. Additionally, consider carrying a note from a healthcare provider explaining any dietary restrictions or allergies, which can be helpful when communicating with airline staff and ensuring your child's safety during the flight.
Keeping Kids Entertained During Layovers
Long layovers at LAX can be more enjoyable for you and your children when you have a plan in place. There are several things you can do to keep your young ones occupied.
Electronics
Electronics like tablets or smartphones can be a lifesaver when it comes to keeping kids entertained during layovers. Download their favorite games, movies, or educational apps in advance. However, be mindful of screen time limits and take breaks to avoid overuse.
Reading and Arts and Crafts
Pack some of your child's favorite books or bring along coloring books and crayons for creative activities. Engaging in reading or arts and crafts can be a productive and enjoyable way to pass the time while waiting for your next flight.
Security Checks with Children
When traveling through LAX Airport with children, understanding security procedures is essential for a smooth airport experience.
Screening Procedures for Kids
At the security checkpoint, children will need to go through the same screening procedures as adults. This typically involves walking through the metal detector and having carry-on items scanned through the X-ray machine. Be prepared to remove your child's shoes if requested by security personnel.
What to Expect at the Security Checkpoint
Before arriving at the security checkpoint, remind your children to empty their pockets and place any items like toys, electronic devices, and snacks in a tray for X-ray screening. You may also need to collapse strollers and car seats for scanning. Stay patient and follow instructions from TSA agents to ensure a smooth process.
Tips for Calming Anxious Children
If your child is anxious about going through security, provide reassurance and explanations about the process. Familiarize them with what to expect, so they feel more at ease. It can be helpful to let them know that security personnel are there to keep everyone safe.
Boarding and In-Flight Tips
When it comes to boarding and in-flight experiences with kids, a few practical considerations can make your journey through LAX more pleasant. Additionally, be sure to take a look at flight etiquette with children before boarding.
Early Boarding for Families
Many airlines offer early boarding for families with young children. Take advantage of this if it's available, as it provides extra time to get settled on the plane, stow your carry-on items, and ensure your children are comfortable before the rush of other passengers.
Seat Selection for a Smooth Flight
When booking your flight, consider seat selection carefully. Choose seats that are convenient for your family's needs, whether it's proximity to restrooms or keeping your kids in a comfortable and easily accessible location. Some airlines may have seating options designed specifically for families.
In-Flight Entertainment and Snack Packs
Pack entertainment and snack bags for your kids during the flight. Bring items like coloring books, puzzles, or tablets loaded with their favorite movies or games to keep them occupied. Snack packs with familiar, favorite treats can help make the flight more enjoyable and keep hunger at bay.
Dealing with Travel Challenges and Delays
Traveling with kids may involve unexpected challenges and delays, so it's essential to be prepared.
Flight Delays and Cancellations
Flight delays and cancellations can happen. Stay informed about your flight's status by checking for updates online or through your airline's app. Have a backup plan in case of extended delays, like bringing extra snacks, entertainment, and any necessary supplies for your children.
Handling Jet Lag and Time Zone Changes
If your journey involves crossing time zones, be prepared for potential jet lag. Adjust your children's schedules gradually and encourage them to sleep and eat in line with the local time of your destination. Staying hydrated and allowing time for rest can also help with the adjustment.
Lost Luggage and Handling Unforeseen Issues
In the event of lost luggage or other unforeseen issues, contact your airline's customer service or the airport's lost and found department. Ensure your children have essentials like a change of clothes and important items in their carry-on bags to tide you over until the situation is resolved.
Returning to LAX Airport with Kids
When it's time to return to LAX at the end of your trip, there are some practical steps to keep in mind.
Deplaning and Collecting Baggage
After landing at LAX, follow the instructions of the flight attendants for deplaning. Make your way to the baggage claim area to collect your checked luggage. Keep a close eye on your kids and their belongings during this process.
Ground Transportation Options
When you're back at LAX, consider your ground transportation options. You can use ride-sharing services, taxis, or rental cars to get to your destination. If you've parked your vehicle, you can retrieve it from the airport's parking facility.
Wrapping Up Navigating LAX Airport with Kids
We hope this guide has provided you with valuable insights and practical tips to make getting through LAX Airport with your children as smooth as possible. Remember, preparation and a well-thought-out plan can go a long way in ensuring a stress-free and enjoyable experience for your family.
Whether you're just beginning your trip or returning from your adventure, keeping these tips in mind can help you navigate LAX with confidence. Safe travels, and may your family's future journeys be filled with happy memories and exciting new experiences!